Student 101 Fume Cupboards
Complies with AS/NZS 2243.8:2014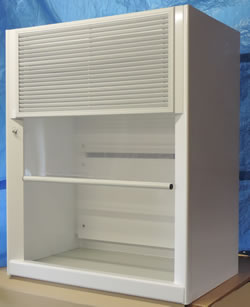 The Student 101 answers the challenge "to produce the goods at half the price", especially for pacific island schools.
It is a basic entry level fume cupboard, providing measurable performance and compliance with Standards, as affordably as possible.
It is an economical bypass design, one metre wide, and 620mm depth to suit standard school joinery.
Nevertheless, it is made with traditional materials and profiles, and proven construction methods.
Check out the Features here
The Student 101 is paired with a completely new centrifugal fan,
Fumeflow 101

Click here
for pdf installation instructions

Click here
for pdf user handbook