Fumeflush Scrubbers for Fume Cupboards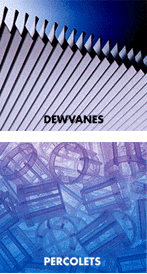 A compact packed bed scrubber mounted directly on the fume chamber for perchloric or HF work, or other hot acid digestions.

The compact low velocity scrubber is designed to remove unstable water soluble vapour phases from the effluent fume.

The scrubber comprises a bed of patented packing elements moulded from inert polypropylene, with a patented PVC louvre blade demister.

Close coupling the scrubber to the fume chamber eliminates unwashed sections of duct. The sprays are easily visible to the operator through an inspection panel.

Click here for pdf installation instructions.


Click here for pdf user handbook