Microprocessor Fume Cupboard Safety Sequence Controller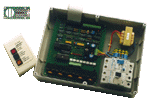 Our proprietary microprocessor controller is purpose designed to perform all the safety sequence functions for fume cupboards defined by Standard AS/NZS 2243.8. It is fitted to all our fume cupboards, and can be retrofitted on existing fume cupboards. The main controller circuit board incorporates high capacity relays for switching all ancillary devices. It also has an internal library of software to suit all types of fume cupboards - Student, Smoothflow, SashDrive and Fumeflush models.
The standard unit is housed in a plastic enclosure, with mains power local isolator, circuit breaker for fan & light, and RCD breaker for power outlets. It mounts on top of the fume cupboard, out of sight, but easy to service. The standard keypad has three "traffic light" buttons and a display of status LED's
The smaller circuit board in the picture is our revolutionary new sensor which measures true airflow into the fume cupboard.